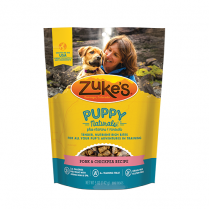 ZUKE'S® PUPPY NATURALS® PORK & CHICKPEA RECIPE DOG TREAT 5 OZ
DETAILS:
Tender, Nutrient-Rich Bites for Your Pup's Adventures in Training
To your puppy, every day is a new adventure. There's so much to learn: Come. Sit. Stay. And, perhaps most important, always do your business outside. Treat your way to a better-behaved puppy with grain-free Zuke's Puppy Naturals. They're an ideal, puppy-sized reward for a job well done and a perfect complement to your pup's playful spirit and developing taste buds. Specially crafted in the USA using the Earth's best ingredients, they're made with protein-rich salmon, pork or lamb, plus added DHA and EPA to help support puppy's healthy brain development. Mighty impressive at just 3.5 calories per treat.