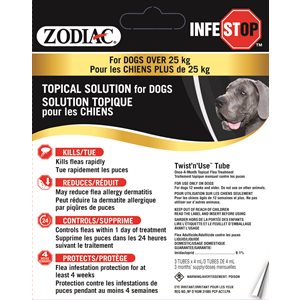 Zodiac Infestop Topical Flea Adulticide for Dogs Over 25KG
Once-A-Month Topical Flea Treatment Solution
Trusted / Proven: Veterinary Technology
Same Active Ingredient as in Advantage®
KILLS
Rapidly kills fleas
CONTROLS
Controls fleas within 1 day of treatment
REDUCES
May reduce flea allergy dermatitis
PROTECTS
Flea infestation protection for up to 4 weeks in cats, and at least 4 weeks in dogs.
Flea Adulticide Liquid Domestic Guarantee: Imidacloprid ... 9.1%
FOR USE ONLY ON CATS 12 WEEKS AND OLDER. DO NOT USE ON OTHER ANIMALS
For effective flea control, treatment of the pet should be combined withthe sanitation of any area used by the pet. Vacuum floors, carpets and furniture (discard vacuum bag after use) and wash the pet's bedding, living quarters and surrounding areas. If pest problems persist aninsecticidal premise treatment may be required. The successive feeding activity of fleas on pets may elicit a hypersensitivity skin disorder known as flea allergy dermatitis (FAD). Treatment of pets with Zodiac lnfestop Topical Solution rapidly kills fleas and may reduce theincidence of this condition.
NOVEL TAMPER-EVIDENT TWIST'N'USE™ APPLICATOR
One Step: Simple and easy to open/use - Appeals to all consumers. Tube system which releases an internal pin with a twist of cap. Unique applicator to minimize exposure so topical can be applied precisely to the area/targeted application of the product. No visible rupture points/risk of injury/loose parts.
PHARMA COMPLIANT TUBE/POLYFOIL® PREMIUM PROTECTION
High barrier properties (protection to light/moisture/oxygen)
HYGIENIC SINGLE-DOSE APPLICATION
Closed - Sealed/No Contamination of contents
Open – Internal pin/No hand contact with chemical