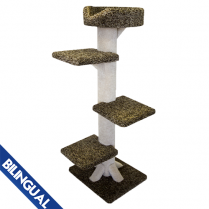 WonderPet Tree Basket
DETAILS:
The Wonder Tree Basket™ is a fantastic climbing tree. It is a fairly large piece of furniture, that is perfect for a multi-cat home and helps to keep your cat's active.
Specs:
Height: 50"
Basket: 14"
Big Base: 17" x 21"
Small Bases: 12" x 13"