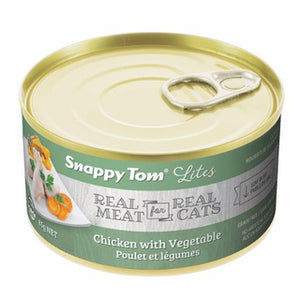 Snappy Tom® Lites Chicken with Vegetables Wet Cat Food
Snappy Tom Lites selections are all-natural, delicious, and formulated to keep your cat fit, healthy, and strong - no matter what age or breed!  Real fish provides protein, omega fatty acids and tempting flavour for a healthier, happier cat.
INGREDIENTS:
Chicken, pumpkin, carrot, modified tapioca starch, gum, taurine and vitamin supplements, and trace minerals.
GUARANTEED ANALYSIS:
Crude Protein. . . . . . . . . . . . . . . . . . . . 11% MIN
Crude Fat. . . . . . . . . . . . . . . . . . . . . . . 0.5% MIN
Crude Fibre. . . . . . . . . . . . . . . . . . . . . .1% MAX
Moisture. . . . . . . . . . . . . . . . . . . . . . . . .85% MAX
Ash. . . . . . . . . . . . . . . . . . . . . . . . . . . . .1% MAX
Salt. . . . . . . . . . . . . . . . . . . . . . . . . . . . .1% MAX
Vitamin A. . . . . . . . . . . . . . . . . . . . . . . . 2850 IU/kg MAX
Vitamin D. . . . . . . . . . . . . . . . . . . . . . . . 750 IU/kg MAX