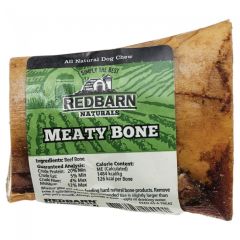 Red Barn Meaty Bone Sm Dog
This all-natural chew is made of 100% beef bone with the original meaty morsels still on the bone for your pup to enjoy. Slow-cooked in our kitchens without any artificial flavors, chemicals, or preservatives, this single-ingredient chew is truly all meat.

A drool-worthy match for your family's power chewer, Meaty Bones are a healthy and nutritious distraction when guests are over, when home alone, or just for everyday chew time. The natural act of chewing on Meaty Bones helps fight boredom, relieve stress, and supports overall Dental health by gently massaging gums and removing plaque buildup.