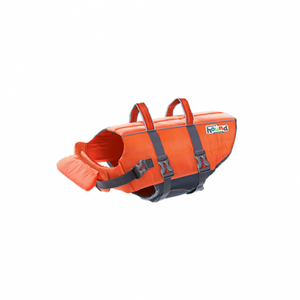 Outward Hound Life jackets
DETAILS:
Because dogs love to swim and we love to keep them safe, the Outward Hound® Granby Ripstop Life Jacket provides a comfortable, secure fit for tons of fun in the water. Whether your dog splashes near the shore or plays in the waves, the Granby dog life jacket was made to be noticed. With bright orange coloring and reflective piping, you will be able to quickly identify your dog in our out of the water.
Constructed with ripstop material that provides comfortable buoyancy in the water, and does not restrict movement on land. A front neck float helps keep their head above water and a neoprene belly band securely supports their chest and stomach.
Dogs come in all shapes and sizes. Whether your dog is short and stout or long and lanky, there is a life jacket perfect for them. Available in sizes from Extra Small to Extra Large, we have made it easy for you to choose a size that supports them and fits their swimming needs.