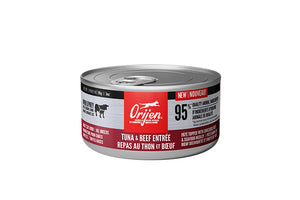 ORIJEN Wet Food - Tuna & Beef Entrée 3oz
The first 8 ingredients in this diet are raw chicken, chicken liver, whole mackerel, chicken bone broth, fish bone broth, chicken heart, whole sardine and egg.
Our authentic WholePrey diet features the most succulent and nutrient-rich parts of the prey including poultry or fish, organs and bone to mimic what your cat's ancestors consumed in the wild.
This diet is a high-quality pâté of poultry and fish topped with succulent shreds of chicken.
Includes 80% moisture to keep your cat nourished and hydrated.