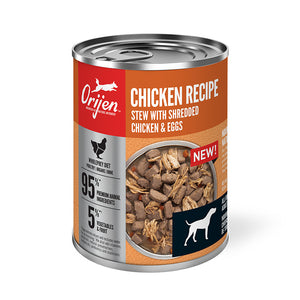 ORIJEN Wet Food - Chicken Recipe
ORIJEN® Chicken Recipe Stew nourishes as nature intended with rich inclusions of savory chicken shreds and chunks that will help your dog thrive. Packed with 95% premium animal ingredients, the first five ingredients in ORIJEN Chicken Recipe Stew are fresh or raw animal ingredients like chicken and chicken liver. This includes succulent WholePrey ingredients like organs and bone to add a source of essential vitamins, minerals and amino acids. Feed your dog ORIJEN Premium Wet Dog Food alone to add moisture and nourishment to their diet, or add it on top of their favorite ORIJEN kibble for a nutritious, indulgent treat at mealtime.
•The first 5 ingredients are fresh or raw poultry ingredients. Our fresh ingredients use refrigeration as the sole method of preservation and our raw ingredients are frozen at their peak freshness.
•Our authentic WholePrey diet features the most succulent parts of the prey like poultry, organs and bone to mimic what your dog's ancestors consumed in the wild.
•Helps support a strong gastrointestinal environment.
•Feed alone or incorporate into your dog's ORIJEN kibble for a nutritious addition at mealtime.
•High in moisture to keep your dog hydrated.
•This diet features high-quality shreds and chunks of chicken.