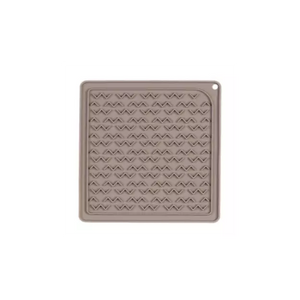 Messy Mutts Silicone Therapeutic Licking Mat 8x8 - Assorted Colours
Feed your mutt. Not your floor.
Stimulate your mutt...while slowing their intake. Let your mutt lap up those healthy soft treats, supplements or food. Just spread your mutt's favorite snack over the surface, let them lick it, wash it, and repeat.

Features:
Spread your dogs favorite soft treat and bake, freeze or just serve.
Perfect for delivering supplements, milks, broths or just plain peanut butter and yogurt while prolonging their enjoyment.
Groove design will slow your mutt's intake on any spread while providing the therapeutic benefit of licking.
Super flexible silicone is easy to clean and dishwasher safe.
The 10" x 10" mat has a 6" x 0.5" bowl that is made of food-grade safe silicone that is odor and stain resistant; BPA and PVC free.
Freezer and microwave safe.
Size: 8" x 8"

Care: Hand wash with warm water and mild soap or place in dishwasher.