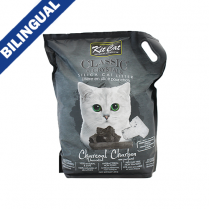 KIT CAT® CLASSIC® CRYSTAL SILICA CAT LITTER CHARCOAL UNSCENTED
DETAILS:
Introducing the Kit Cat® Classic® Silica Crystal – a hygienic litter that consist of compostable mineral beads that is at least 4 times more effective than conventional cat litter.<\p>
Made to quickly eliminate unpleasant odours, this easy to maintain and effortless to clean up cat litter is non-toxic and safe for all cats. Specially formulated to be lightweight for a mess free experience, this highly absorbent and odour-control cat litter keeps your home smelling clean and fresh without your cats compromising. Contains No harmful chemical, dyes or make any attempt to change what is naturally occuring.
Key Features/Benefits:
Antibacterial and Non-Toxic
Maximum Odor Control
Easy Clean Up
Anti Static and Dust Free
Excellent Absorption
Easy Maintenance
Non-Tracking