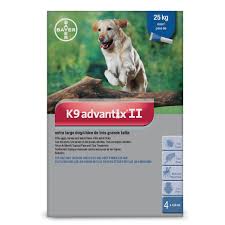 K9 Advantix II X-Large Dog Over 25KG
K9 Advantix® II is a topical monthly application that works through contact to control fleas, ticks and lice on dogs, and protects them from further infestation.
K9 Advantix® II also reduces biting by mosquitoes and stable flies and kills mosquitoes.
Helps get rid of fleas, ticks & lice —within 24 hours of treatment
Prevents further flea, tick & lice infestations for at least four weeks
Kills Fleas, flea eggs and larvae, effectively breaking all flea life-cycle stages.
Ticks do not need to feed to die. Ticks that don't bite cant transmit diseases such as Lyme disease.
Safe and proven—can be used on puppies as young as eight weeks
Helps in the prevention of flea allergy dermatitis (FAD)
Available in four different sizes for puppies and dogs
Application instructions for K9 Advantix®
 

II
K9 Advantix®
 

II Dog

Application Instructions
Remove one applicator tube from the package.
Hold applicator tube upright and pull cap off.
Turn cap around and place other end of cap back on tube.
Twist cap to break the seal, then remove cap from tube.
How to apply K9 Advantix® II on dogs
Remove collar prior to application.
Starting at your dog's shoulder blades, part the hair.
Apply K9 Advantix®

 

II evenly and directly to the skin in three or four spots along your dog's back by squeezing out the tube contents.
Be sure to empty the entire tube by the end of the application. Your dog's natural movements will help spread K9 Advantix®

 

II over the skin.