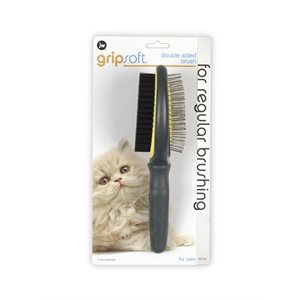 JW Cat Double Sided Brush
Product Information:
JW Gripsoft Double Sided Brush features a pin brush on one side and a bristle brush on the reverse. The pin brush removes snarls, tangles and unwanted dead or shedding hair, and the bristle brush finishes the coat to bring out its natural shine and luster.The Grip Soft Cat Double Sided Brush is perfect for medium to long haired felines.Pin brush removes snarls, mats & shedding hairBristle brush brings out natural shine & lusterErgonomically designed grooming tools have soft, non-slip rubber grips.It's handle & pin pad are joined together to produce a strong & secure grooming tool for everyday use. They remove excess hair & leave your dog's coat silky smooth & luxurious.