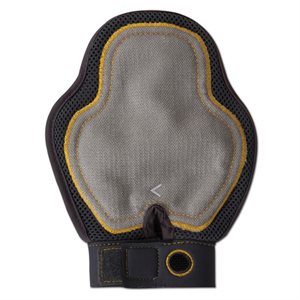 JW 3 in 1 Dog Grooming Glove
Product Information:
The JW GripSoft 3-in-1 Grooming Glove for Dogs is the complete grooming tool every dog owner needs. Its varying textures suit all needs for quick, easy, efficient grooming with minimal effort from you. The glove's rubber side's tiny, brush-like fingers groom, scrub and massage your dog's skin and coat, and can be used wet or dry. The fabric side acts like a lint brush, removing loose hair from the coat, clothes and furniture. An outer mesh allows water to flow through, facilitating quick drying. The 3-in-1 Grooming Glove is one-size-fits-all. An adjustable Velcro wrist strap keeps the glove secure, while inner straps ensure a universal fit for smaller hands.Different textures for quick & easy grooming! Rubber fingers groom, scrub & massage skin and coatThis grooming glove comes with inner straps for smaller hands to ensure a universal fit. In addition, this grooming glove has an adjustable wrist strap to keep it secure. Mesh outside allows water to flow through & encourages quick drying. The rubber side can be used either wet or dry & has tiny brush-like fingers that can groom, scrub & massage The fabric side works like a lint brush - removes loose hair from pet, clothes or furnitureThe glove hangs for easy storageMachine wash cold. Air dry.