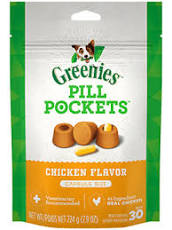 Greenie Pill Pockets Chicken Dog
The #1 Vet-Recommended Choice for Giving Pills
One of the best ways to get your dog to take medicine is to hide the pill inside a tasty treat. GREENIES® PILL POCKETS® Treats have built-in pouches to easily hide pills and ensure your dog takes their medication. These all-natural treats are a healthier alternative to using human foods, because they have fewer calories and less fat and sodium. Make pill-giving more enjoyable for both you and your dog.

Key Benefits:
Turn Pill Time Into Treat Time®
This healthy and delicious treat masks the taste and smell of medicine, making pill-giving a reliable, stress-free experience.
A Healthier Alternative
These all-natural treats are a healthier alternative to hiding medications inside human foods.
Designed by Vets
These treats were designed and are recommended by vets to help you follow your own veterinarian's recommendations and pill-giving regimens.
Three Delicious Flavors
It's easy giving medicine when you have three tasty flavors to hide it in. Pick your dog's favorite: chicken, real peanut butter or hickory smoke.
Two Convenient Sizes
These treats come in a larger size that fits most capsules and a smaller size that fits most tablets. Choose the one that fits your dog's pills.