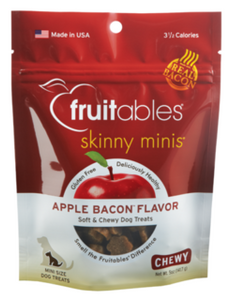 Fruitables® Skinny Minis™ Apple Bacon Chewy Dog Treats
Skinny in Calories, Mini in Size. These fashionably delicious chewy dog treats have an amazing aroma and taste, and are the perfect size for small dogs or training. Apple Bacon has the mouthwatering rich flavor of real bacon cuts and apples combined with fresh sweet potatoes to give your pet pure satisfaction without you having to get out the frying pan. Using fresh-packed pumpkin or sweet potato as the first ingredient, Fruitables Skinny Minis are gluten free and only 2 calories each. Whether you are showing your special pet affection or rewarding them, these oh-so-cute flower shaped treats are irresistible. Available in six distinctive varieties, each has its own story that is as unique as its taste
Features: Apple bacon flavor satisfies your dog's cravings; low-calorie recipe offers a healthy snack; ideal for training; designed for puppies and adult and senior dogs
Food Type: Dog Treats
Food Consistency: Chewy
Life Stage: Puppy to Senior
Flavor: Apple Bacon
Primary Ingredient: Sweet Potatoes
Calories per Serving: 2 calories per treat
Package Weight: 5oz or 12 oz.

DIRECTIONS:

Intended for supplemental feeding only.
Feed up to 20 treats per 10 lbs. of body weight per day.
Always ensure an ample supply of fresh water is available.

INGREDIENTS:

Sweet Potatoes, Oatmeal, Ground Brown Rice, Tapioca Starch, Vegetable Glycerin, Ground Potatoes, Brown Sugar, Canola Oil, Bacon, Ground Oats, Apples, Gelatin, Salt, Natural Flavors, Phosphoric Acid (Preservative), Mixed Tocopherols (Preservative) and Rosemary Extract