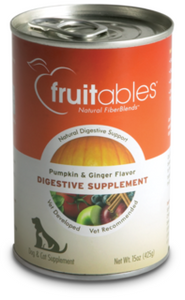 Fruitables® Pumpkin Flavor Superblend Digestive Supplement
Fruitables Pumpkin SuperBlend Digestive Supplement is an ultra low calorie indulgence made with harvest fresh pumpkin that tastes like a favorite holiday pie.Fruitables Pumpkin SuperBlend Digestive Supplement is fortified with L-Carnitine, Taurine, and Choline, this naturally high fiber mixer is part of a complete and balanced meal and is proven in university studies to reduce hunger between meals. The hunger buster your pet will love!

FEATURES:

* High fiber increases feeling of satiety (fullness)
* Balanced palatability, advanced nutrition and calorie control
* Adds outrageously great taste
* A healthy alternative to gravies
* Loved by finicky eaters
* A natural indulgence for your pet that helps you love life together
* Helps with sensitive digestion.


Smart Tip: Freeze Pumpkin Supplement in an ice cube tray for extended freshness. A cool treat!


DIRECTIONS:

Turn boring old dry food into a healthy gourmet meal. Formulated to replace up to 10% (by volume) of your pet's daily diet. Spoon on and mix evenly. (90% Dry Food + 10% Fruitables Pumpkin SuperBlend Digestive Supplement)
Cover and refrigerate any unused portion for up to a week.
INGREDIENTS:
Harvest fresh pumpkin, apple pumace, spinach, tomato pomace, choline chloride, ginger, spearmint, ground flax seed, cinnamon, calcium pantothenate (Vitamin B5), pyridoxine hydrochloride (Vitamin B6), folic acid (Vitamin B9), Vitamin B12 supplement.