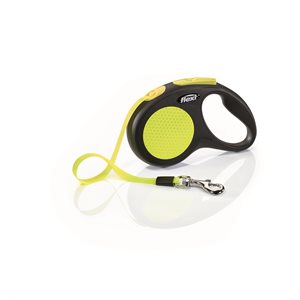 Flexi Neon Small 5m Tape Up to 15kg Neon
Product Information:
New Neon - Better visibility for you and your dog
New Neon is not only an outstanding leash it stands out in all weather conditions due to its reflective stickers and neon-colored components.
Features:
5 m tape leash
For animals up to a maximum of 15 kg
Short-stroke braking system
Neon-coloured tape
Reflective sticker
Flexi retractable leashes unite two diagonally opposed requirements; they let you walk your dog in a controlled way while giving your best friend freedom of movement to discover his immediate environment. flexi is the ideal bond between you and your best friend and will bring you much joy.