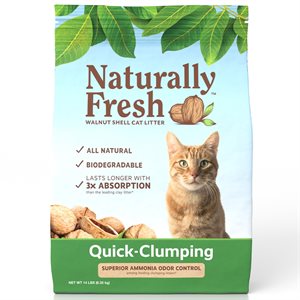 Eco-Shell Naturally Fresh Quick Clumping Litter 14LB
Quick Clumping Cat Litter Quick-Clumping Formula
Naturally Fresh is a major advance in cat litter because it's made with walnut shells, which provide superior odor control and have greater absorption capacity than the leading brand cat litters. What's more, Naturally Fresh is All natural and environmentally-friendly.
Superior Odor Control - Because Naturally Fresh is so absorbent, one bag of is equal to three bags of the leading clay litter. Made from a proprietary blend of the fibrous materials found in the walnut shell, Naturally Fresh neutralizes litter box odors better than clay, pine and wheat.
Harder Clumps For Easier Scooping - The super-absorbent formula produces harder clumps than pine, corn and wheat in as little as 15 minutes, making clean-up simple and mess-free.
Low Tracking and Virtually No Dust - Unlike clay litters which throw off silica dust, Naturally Fresh is virtually dust-free so you and your cat can breathe easy. And because it doesn't stick to your cat's paws, it won't be tracked throughout your house.
All Natural and Eco-Friendly - All natural and biodegradable†, Naturally Fresh is made from walnut shells, an annually renewable non-food agricultural product.
NO toxins, NO worries. - Made without any harmful ingredients, Naturally Fresh is safe for you and your cat or kitten.