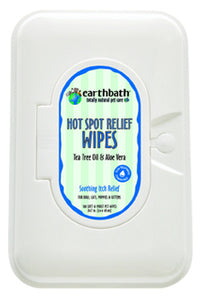 Earthbath® Grooming Wipes Hot Spot 100 ct
Hot Spot Wipes are infused with tea tree oil and aloe vera to naturally soothe and relieve hot spots and itchy, dry or chafed skin caused by flea bites, dandruff, or other dermatitis. Tea tree oil has been long recognized as an effective and beneficial remedy for skin irritations, insect bites and itching, while aloe vera is one of nature's finest soothing emollients. Use these wipes in conjunction with earthbath Hot Spot Relief shampoo and spritz for best results. Safe for all animals over 6 weeks old.
INGREDIENTS:
Purified water, aloe vera, hawaiian awapuhi extract, ginseng extract, melaleuca (tea tree oil), glycerin, vitamin E, natragem, phenoxyethanol, natural preservative.