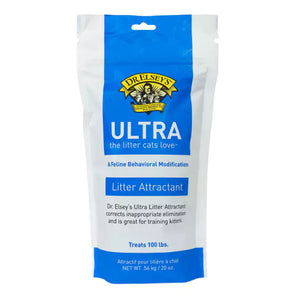 Dr.Elsey's Ultra Litter Attractant 20oz
A feline behavior modification and training tool providing a guaranteed solution for problem cats that won't use their litter box.
Just 20 ounces of this product (one pouch) will treat 100 lbs of medium size particle, non-scented scoopable litter and last one cat over three months. To be used with Dr. Elsey's Ultra Litter. *We are unable to guarantee the results of this product when used with paper, wheat, corn, conventional, pine, perfumes, cedar, or litters containing baking soda or other deodorizers.
Features:
 Helps bring problem cats back to the litter box
 One pouch treats 100lbs of litter
 Lasts one cat over 3 months