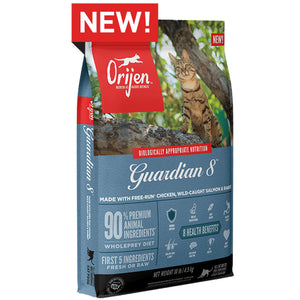 Orijen Guardian 8 Cat
$3799

$37.99

Save $-37.99
---
---
"• The first 5 ingredients are fresh or raw poultry and fish ingredients. Our fresh ingredients use refrigeration as the sole method of preservation and our raw ingredients are frozen at their peak freshness.
• Our authentic WholePrey diet features the most succulent parts of the prey like poultry or fish, organs and bone to mimic what your cat's ancestors consumed in the wild.
• Helps support your cat's digestion with prebiotics such as dried chicory root and natural sources of fiber from whole pumpkin, collard greens, whole apples & whole pears.
• 2/3 of each bag includes fresh or raw ingredients."