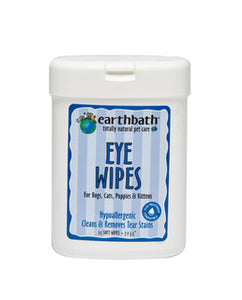 Earthbath® Grooming Wipes Eye Wipes
Earthbath Eye Wipes are a fast, convenient way to keep the area around your pet's eyes clean and free of tear stains, dirt, secretions and other general discharge. These eye wipes are hypo-allergenic and fragrance-free for safety. Safe for all dogs, cats and other furry pets over 6 weeks old. Will not remove spot flea treatments.
INGREDIENTS:
Purified water, aloe vera, sodium chloride, boric acid, witch hazel, natragem, citric acid, vitamin E, natural preservatives.