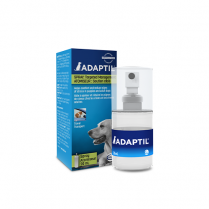 ADAPTIL® CALMING SPRAY 20 ML for Dogs
DETAILS:
ADAPTIL® Transport Spray helps calm your dog on the move.
Makes travel and visits to the veterinarian less stressful. Reduces panting, trembling and restlessness during travel.
Easy on -the-go:
During care trips or when going to the veterinarian, spray directly in your car, on a blanket or in your dog's carrier.
Good To Know:
Apply 8 sprays per application
During long car trips: re-apply spray every 4 to 5 hours.
Always wait about 15 minutes before letting your dog back in the car.